Welp, folks, this is the last story in the "The Takes" series, and I know you're probably wondering how anything could possibly top the storybook romance of how I met Will Ryan, but, strap on your seat belts because you're about to go on a fantastic voyage.
This is the story of my last serious relationship. 
It is the recounting of a real, honest, heartcore kind of love. Kind of. Well, not really, but kind of. Well, you'll see. Anyhow, let me get on with it already…
THE MEETING—FRIDAY, January 29th, 2010 
I was sitting alone, as usual, at my favorite local bar (my personal version of 'Cheers'), Humphrey's, when he sat down beside me. 
Honestly, I didn't really take much notice of him at first. He wore a pair of jeans, a simple plaid button up, and brown shoes—one of three common 'uniforms' that make up the wardrobe of a southern guy.
After some time of sitting beside me, he leaned over and said something funny, cupping his hand over my ear as he did so. For the love of God, I wish I could tell you what it was, but I honestly don't remember. I can tell you though, that he had me cracking UP from that moment on. Prime example, at some point during the evening, he asked me to stand up.
"What? Why?" I asked, as I slinked hesistantly out of my seat.
"I mean, I have to see how tall you are…I'm trying to imagine how tall you are without the heels on, because, I don't know if you noticed or not, but, I'm pretty Asian."
I laughed so hard when he said that, that I'm pretty sure I peed at least a little. Our little secret.
I could tell, I liked this guy already.
Aside from his great sense of humor, he donned a fantastic smile (I don't know if I've mentioned this before, but I'm somewhat obsessed with nice teeth), he had a personality laden with wit and sarcasm (which I LOVE), and as far as I could tell, he was significantly intelligent, maybe due in part to his being, as he'd pointed out, Asian. Half Korean, to be exact.
As I said, Humphrey's is my personal version of Cheers…it's like everybody knows my name there, and for whatever reason, even people I don't know are always stopping to say hello. So, our conversation was interrupted at, pretty much, bi-minute intervals—and let me tell you, it was a pretty important conversation, one about my plans of purchasing a panda ski mask and gallivanting about town like it was normal…and then, someone else interrupted.
"Uhhhhh, you're not a regular here, are you?" He asked, sarcastically.
And then, he continued to ask that question for the rest of the night each and every time someone new would stop to say hello to me.
Several Hours Later…
"So, I think we've already assessed that you're a regular here…if I happened to show up back here, let's say…Monday, around 8pm…could I count on seeing you here?"
I told him that if he were going to be there, I could probably arrange to have all of my important Monday night meetings canceled, so that I could spare him a few moments of my time.
He wasn't the only one who'd come gift-wrapped with a bow of sarcasm.
"You're too kind, you're too kind. Okay, so, no pressure, but if I wanted to get your number, you know, just to remind you to cancel those meetings, would that be okay?"
This guy really knew his way around transitional flirting. And I liked it.
He walked me out to my car, gave me a hug and told me that he hoped to see me Monday.
A few minutes later, on the highway, I received a text message: 
Text #1: Hey, it's Dorian. I think I'm being chased by a motorcycle gang of ninja assassins. I'm scared.
Text #2: Oh, nevermind, that's just your car, I'm safe. Whew.
My car…was loud. Like, 'did a helicopter just land in my back yard?' —LOUD. I'd had a performance exhaust system installed and my catalytic converter removed, so—you know those Fast n Furious type cars? The ones that are really loud and annoying? That was MY car. Except, louder.
Second time that night that I peed a little from laughing too hard. 
I was beaming.
And that is how I met Dorian Lee.
THE FIRST DATE—MONDAY, February 1, 2010
There's nothing worse than having to fake laugh, ever, much less on an awkward first date. 
I can honestly say I have never genuinely laughed so hard, for so long, quite possibly, in my entire life. 
We joked.
We laughed.
We joked with, but mostly laughed at Ed, an older guy we'd befriended that night who was in town with the circus…you think I'm kidding, but no…like, he was legit WITH the circus.
He told us of his town-to-town travels on the Barnum & Bailey train, sleepless nights, and how, if he hadn't gotten attached to the bottle, he'd have pursued his career in music as a soul singer. Music was his one true love. He'd taken vocal lessons throughout his childhood, and even now—each morning he rose on that train, he'd wash his face, and while staring at his reflection in the mirror, he'd sing himself an old tune.
Sounds either sad or endearing. Dorian and I really liked ol' Ed, but both found his tale neither sad, nor endearing. We were, in fact, doing everything in our power not to bowl over in laughter.
Take my word for it, you can't take a tale like that seriously, when you're simultaneously trying to dodge sauce-slathered hot-wing bits flying from the mouth of the storyteller. And it doesn't help when said storyteller is a traveling clown.
"Thirteen years of vocal lessons wasted, I could be doing what they're doing right now." Ed said, pointing at the cover band playing just a few feet away from us.
Just as he finished his audible thought, a piece of chicken, from Ed's mouth, landed on Dorian's cheek.
I.COULD.HAVE.DIED.
Somehow, it didn't even phase him. He just grabbed a napkin and wiped it away. I guess nurses are used to stuff from other people's bodies landing on them.
"I bet your voice is beautiful, Ed…"
I stared at him, with eyes that pleaded with him to stop. I really couldn't take much more.
"…I'd like to hear it. When those guys finish their break and start playing again, I bet they'd let you sing with them…" Dorian continued.
I grabbed hold of the inside of my bottom lip with my teeth, and bit down. HARD.
"…like, would you say you have more of a gritty soul kind of voice, or more of a Parkay butter-like type of voice? Either way, I bet it's beautiful, plus, all those years of vocal lessons…you know what, Ed? I'll be right back."
And with that, he got out of his bar chair and walked over to the band. He was talking to one of the guys, turned around, pointed in mine and Ed's direction, and then turned back around and continued talking. A couple minutes later, he calmly returned to us and sat down. I have no idea what he'd said, but a few minutes later when the band was starting back up, the lead singer, made an announcement:
"Ladies and gentlemen, we're gonna get back to it here in a few minutes, but first we wanted to invite someone up here to join us for a song. Ed, come on up here, buddy."
I couldn't believe it.
Ed kind of shook his head no at first, but the only coaxing it took for him to proceed, was Dorian placing a firm hand on his shoulder and giving him a serious face, and a reassuring nod.
"You're not right." I said to Dorian.
He looked shocked. "What are you talking about? I'm making that man's dreams come true, look at that face."
Ol' Ed was grinning from ear to ear, coordinating an appropriate song choice, I assume. After a few minutes, the band began to play and Ed raised the microphone to his mouth…
The best way I can explain the next moment is…you know how on American Idol, they introduce someone and tell their life story and it's so tragic, and they talk about how music is all they have left…and there's this huge build up and then they get in front of the judges and they clear their throat and you prepare yourself for what you think is going to be a performance that will blow your socks (and maybe your feet too) off? And then they open their mouths and you immediately start laughing…and then the judges start laughing..and then you start to feel sorry for the poor sap singing, because in their mind, they really can sing?
Well, that night, that poor sap, was Ed.
He was not only bad, he was horrible, but man, man oh man was he singing his heart out. Dorian and I looked at one another, turned our backs to Ed, and completely lost our shit. Then, he grabbed my hand, and the two of us—JUST the two of us, stood in front of the band, and proceeded to swing dance. It was an absolute brilliant moment.
I don't think the band enjoyed Ed's entertaining as much as we did though, and worse for them, they couldn't seem to get rid of him. Every time they'd finish a song, he'd tell them "one more"…poor guys.
Ed wasn't our only entertainment that night. We also provided counseling to a lesbian couple who told us that they were terribly in love with one another.
They'd been together for nine whole days. 
"What a coincidence, Robyn and I have been together nine years, and we're still going strong, I think she's a keeper."
Epic.
Five hours later, our first date ended with him walking me out, and giving me a hug and a kiss on the cheek.
"I work nights, except weekends, so can I see you again Friday?"
Who was I to deny him another potentially amazing time?
Or, myself.
Later, when I got home, I found a note inside my purse with a telephone number and the words "Call Me. —Ed."
Dorian strikes again.
That night still goes down as one of the best of my life.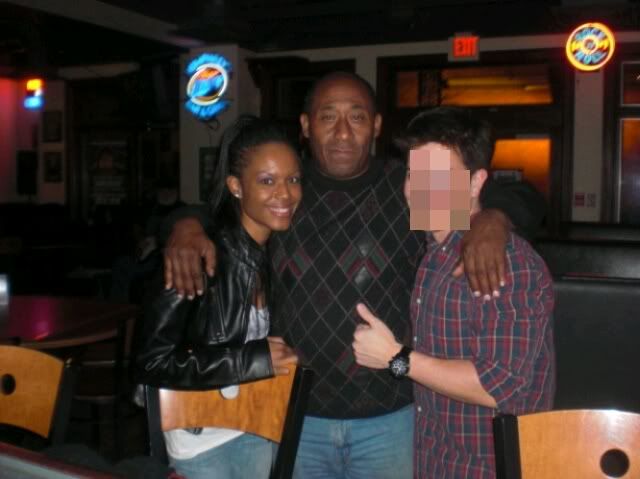 THE SECOND DATE—FRIDAY, February 5th, 2010
A couple days prior to our second date/first 'real' date, we decided…well, he suggested and I agreed, that we'd meet at 8pm for dinner at PF Changs (appropriate, right?). However, on the night of, he text me and asked if he could pick me up instead. I agreed, without hesitation. Quite the bold move for me since, usually, I prefer to drive myself wherever I go because:
1. In regard to dates, I need an exit/escape route. If something goes south and/or I'm "just not that into him" …I find some level of comfort in knowing that I don't have to deal with an awkward car ride back home, or, in the event that it goes REALLY bad, I need to know that a gal's gonna have a ride home. For the record, that's never happened, but, you never know.
2. In general, I like to drive instead of riding, because it means I can go when I want, stay as long as I want, and leave when I want.
For some reason, with him, I wasn't worried about it, I wanted him to pick me up. And so, he did. I'd been staying at my mom's a lot instead of at my place, so I had him pick me up there. I text him the directions so he'd know where he was going, and this…this is what he text back:
Awesome. Put your huge cell phone on the porch so I know which house it is.
The phone I was using when I met him, I'd gotten an extended-life battery for, which was, unfortunately, much larger than the normal battery, and made the phone the size of a brick. 
I'd ordered a new phone and it had actually come in earlier that day.
ME: Very funny. I got a new phone, so you can't make fun of me anymore.
HIM: Ahh that's too bad. Can I have the old phone? I bought a hamster today and I need some place to put it.
The funny never ends with this guy…
When he arrived to pick me up, I walked out of the door, closing it behind me.
"Wait, where's your mom?" He asked.
I paused for a second, this was…different. "Oh, you wanted to meet her??" 
I have to admit, I was a little surprised, though, pleasantly.
Ironically, just as I asked, the door opened and there was my mom.
He stretched his arms out in front of him, "heeeey mom…come on, let's hug it out." 
He hugged, and mom just stood there looking confused. Priceless.
After that bit of awkwardness (for mom, anyhow), we headed to dinner. In keeping with one of my non-resolution, resolutions to 'never order the same thing twice/always try something new'…I ordered a spicy dish that I'd never had before.
It was chock full of red hot chili peppers (whole), so to make it interesting, we each decided to eat one. I went first and it really wasn't hot at all to me. So, I didn't understand why, when it was his turn, he acted as if he'd just eaten a campfire. I thought he was acting. That is, until we each decided to eat another one…at which point, I'd be willing to bet my right pinky toe that hell had momentarily relocated to the inside of my mouth.
And, my glass was empty. And, as my luck would have it, our waitress was no where in sight.
I flagged down a random waiter and was barely able to move my burning lips to ask for a glass of water.
"Um, I think you should have asked for milk."
"Ah uh ink ik" ..my tongue wasn't working. My point was, I don't drink milk.
All in all, I drank eight glasses of water in a row. Literally. Back to back.
Quite a spectacle it must have been.
After I'd managed to get my wits about me, or at least somewhat, we were trying to decide what to do next, when he suggested we: go to the movies, pick the worst/oldest one, and talk all the way through it. We couldn't have done a better job by picking  'Extraordinary Measures', because it was in fact, horrible.
There was only one other couple in the entire theater, and they left after the first five minutes (literally). So we had the whole theater to ourselves and laughed/joked/talked all the way through as planned.
"There's only one thing that could make this movie better" He sort of whispered…and at that moment, he leaned in, and we shared our first kiss.
He was right. That did make it a whole helluva lot better. We even stayed past the credits.
I should also mention that our date was 100% alcohol free. I hadn't had that kind of date since…well, probably since before I could legally drink, not to say that any of my dates include getting 'trashed', but there is usually a glass of wine or two, or beer. It was nice to know that we enjoyed one another's company even in the absence of alcohol…nothing to cloud our judgement. After the movie, he dropped me off at mom's, walked me to the door, gave me a quick peck on the lips, and again, asked when he could see me again. We decided to hang at Humphrey's the next night.
THE THIRD DATE—SATURDAY, February 6, 2010
He picked me up again from mom's, and we headed downtown to Humphrey's. He must have told a couple of his co-workers [females], because they appeared and ended up sharing a table with us the whole night, which, wasn't a problem. More good times.
The highlight of the night was when I got back to our table from having excused myself to go to the restroom, he told me that while I was away, this guy that had been lingering near our table and sort of staring, had sat down to talk to him. He claims that the guy asked if we were together–he replied with a 'yes'–then he says the guy told him to tell me, that if it doesn't work out with him [Dorian], to keep him [random guy] in mind. To that, he says he said, "umm, sorry, but, i'm pretty sure it's gonna work out." Now, I don't know if someone would actually have that much gall, or, if Dorian fudged it, but either way, it made me smile. Not much else to report from that night. Sunday evening (the next day), I received a text from him suggesting that we have a movie/pizza night either that night, or the next (Monday). But I told him Monday would be better. I would have loved to have seen him 3 nights in a row, but I was really too pooped.
THE FOURTH DATE—MONDAY, February 8, 2010
Even though all of our dates were pretty phenomenal, this night had to have been my favorite, up to that point.
I took myself, and 'The Hangover', over to his house. When I got there, I noticed his running shoes outside, and since he's Korean, I just assumed I should take my shoes off too…so, I started to take them off at the door
He started laughing and said, "yes, I'm Asian, but those are out here because they're dirty"…that might have been awkward with anyone else, but, with him, funny of course.
Full of funny, I tell ya.
He invited me in and asked if he could get me something to drink. 
"Um, yeah, water is fine."
"Are you sure? 'Cause I got you Landshark." He said.
My heart swelled a little. The first night we officially hung out at Humphrey's, one of my best-friends, who was also bartending—Gina, asked me if I wanted my usual Budlight and I told her, "yeah, unless you have my Landshark"—they didn't. But, he'd remembered that and had made an effort to stock his fridge with a six pack just for me. I was so impressed…it's the little things, afterall.
He popped the movie in and I sat on one end of the couch, while he sat on the other. Apparently, his feet had gotten cold, so he stretched out and tucked them under my legs. I'm not sure why I wasn't freaking out that his bare feet were touching me, but I was, somehow, totally fine with it. His feet were as cold as two frozen Rocky Mountain oysters though. 
"Dude, why are your feet so cold?" I asked.
"Girl, I'm cold..cooold bloooded." He said in, what I guess was, supposed to be an imitation of Dave Chappelle impersonating Rick James. I couldn't help but laugh at his absurdness.
I had on some uber-warm fuzzy microfiber socks, and I took the one from my right foot off, and put it on his. We wore them like that for the rest of the night. I'd never shared my socks with anyone before.
After the movie we were talking, randomly, and ended up on the subject of Family Guy and how my favorite episode is the one where Peter has the footed onesie pajamas. Suddenly, he hopped up and disappeared around the corner. When he returned, he was wearing one-piece zip-up footed pajamas covered in dinosaur print. I'm pretty sure out of everything else, it was in that moment alone, that he stole my heart. I laughed SO hard. We then discussed how we'd buy me a onesie, and we'd travel the nation & abroad together, taking random pictures in front of landmarks to put in a scrapbook for our kids.
That was an actual plan.
The whole time we were laying on the couch together, wrapped up under the blanket. We went so many places, without ever even leaving his couch. So simple, but I loved every second of it.
Up until a few weeks before we'd met, he'd worked weekends for the past two years.
"I feel so lucky that I don't work weekends anymore." And then he kissed me. 
I felt like the most special girl in the world.
On my way home from his house, I was listening to Matt Duke's "Rabbit" and just as it got to the part of the song that says "so run, little rabbit, run", a rabbit darted across the street in front of me. I text Dorian about the irony and he text back:
I'd say that's the perfect top off to an already magical night. 
That night, I slept with my fuzzy socks on, and when I woke up the next morning, the sock from my right foot was off. I'd never shared my socks with someone before, and I'd certainly never woken up with only one on. 
He worked the next several days. And even though we text each other every day, I've never had a longer week…four days seemed like an eternity. Finally, Thursday night he text:
So, the Robyn & Dorian show starts tomorrow at 8pm.
If elation was a color, you'd have sworn I'd jumped in a pool of it.
THE FIFTH DATE—FRIDAY, February 12, 2010
Earlier in the day, I was cleaning out my wallet, and had come across a coupon for Mellow Mushroom and thought to myself, that I should suggest to him that that be where we go for dinner later…but I got sidetracked and forgot. When I got home from work that evening, I was thinking to myself that I needed to text him to find out what the plan was, but just as I was picking up my phone to text him, I got a new text notification:
I'll pick you up around 8. How's the Mellow Mushroom sound?  
Talk about 'great minds think alike'
Scary.
He picked me up at mom's as usual, and we went to dinner. More of the usual good conversation and laughs 'a plenty. Afterward, we went bowling, which was even more fun. Our dates, quite unintentionally, always lasted almost exactly five hours. After bowling, we still had a couple of hours to kill in order to keep with the tradition, so, we decided to Redbox 'Paranormal Activity' and go back to his place to watch it. We ended up watching the movie, and THEN staying up until 6am playing 20 questions, and talking. Yes, just talking. Okay, and kissing, but seriously just kissing.I nicknamed him The Kissy Monster–
a. because he was always kissing me and
b. because he keeps a cookie monster costume in his car…not kidding
Then we went to sleep. We woke up around noon, and he took me home a couple of hours later.
THE SIXTH DATE—SATURDAY, February 13, 2010
After he dropped me off earlier that day, he met up with a friend at a rugby game. Said friend started drinking, which was at about 3pm or 4pm and was drinking ALL day, so he was stuck being a good friend and 'babysitting'. He invited me to meet them at Humphrey's where they ended up, which I did. Nothing too earth shattering that night. Except that, a couple of my friends stopped in and met him, both approved. Also, Dorian excused himself from the table to go to the bar for a drink, and while he was gone, his very drunk friend moved in with some questions.
"Soooooo, how's that going?" He asked, wagging his finger from me, to Dorian's empty chair. I told him that on a scale of 1 to 10, that it was at least a soaring 11.
"Don't tell him I told you this, but, the guy is totally smitten…I haven't seen him like this in a long time. And, well, I'm just gonna be honest with you, I've totally cyber-stalked you…I mean, I met you the same night you met him, but we didn't get to talk much, so I had to make sure you were good for him…I approve" …it was all quite comical and cute.
Another great evening in our pocket, and after our standard 5hr minimum, we parted and went our separate ways home. I'd laid my head down on my pillow, a smile on my face.
Then my phone buzzed:
I had another great time. Are you going to let me take you out for Valentine's Day?
No one had ever asked me out for Valentine's Day. My first Valentine, and it'd only taken me twenty-eight years.
THE SEVENTH DATE—VALENTINES DAY, SUNDAY, February 14, 2010
The doorbell rang at 9pm and I opened the door, but, there wasn't a soul out there. Suddenly he stepped from the dark, into the light from the overhead porch dome, holding a dozen yellow roses in his hand.
He'd asked my favorite flower the night we'd stayed up playing twenty questions.
He had a homemade card that he'd made on his computer. On the front, was the picture of me, him, and Ed. Inside of the card, he'd written a simple message:
Happy Valentine's Day, here's to more good times.
…there was also a print out of a panda ski mask. Remember the night we'd met, and the conversation about me buying a panda mask, you know, the conversation that kept getting interrupted? Days later I'd continued the conversation on his Facebook wall.
[Me: the good news is, I found it. the bad news is, they're out of stock.]
[Him: Whenever they are available again, we are going to buy two of them. Then, we are going to wear them to the Great Panda Chinese restaurant and eat an entire meal. Whenever someone speaks to us, we'll just growl and nod at each other in agreement.]
He'd found  it. But it hadn't arrived in time, so he printed out the picture of it, to let me know it was on the way. The little things.
He'd made dinner reservations at Dolce and off we went.
Once we arrived, I excused myself to the restroom. Inside of my rather large purse, I had a modest gift for him. I'd bought him a couple pair of warm fuzzy socks, a couple packs of Pull 'n Peel Strawberry Twizzlers (he's addicted to them), and a card…all in a cute lil' red Vday gift bag, complete with white tissue paper.  When I emerged from the bathroom with his gift, he seemed really surprised and genuinely happy with my selections. Dinner went really well—it was really nice, and the food was really good.
First Course- Handmade Caprese Tower crispy & soft mozzarella, fresh tomato, basil.
His Meal-Herb Marinated Chicken Breast asiago chive mashed potatoes, fresh fennel, sun-dried tomato oregano butter
My Meal-Lobster Ravioli champagne saffron cream, fresh lobster meat.
There was also White Chocolate Filled Valhrona Chocolate Cake for dessert.
After dinner, we walked to the Monaco for the 'Valentine's Day' movie.
When we reached our seats, there was a hat in one , and a coat laid across the other. Dorian, being Dorian, laughed, picked both the hat and coat up, and moved them a few seats over. We were both laughing at what fun might come of this, when about a minute later, a rather…intimidating-looking girl with big black curly plastic hair, came pouncing up the stairs. She had a glass of wine in her left hand, a glass of wine in the right hand…and a whoooole lot of attitude all over.
"uuuuuuuuum! what row is this, is this J, 'cauuuuse???!!" She demanded.
I replied, "um, no, this is K…J is down there" and pointed to the row in front of us.
"Hmph. Well, hand me my stuff then, he [her date] told me the wrong thing."
I think someone just didn't know their alphabet.
The whole time, we laughed, moreso at her, than the movie (it was almost as bad as The Village). It was my most eventful cinematic experience—another lady got kicked out for being drunk and wanting to fight. The couple who had been sitting beside her ended up sitting beside us to get away from her and her drunken shenanigans…and we ALL laughed at the girl in front of us…she was entertaining for sure…she ended up dropping one of the glasses of wine (empty) and breaking it. She was also pulling snack bags out of her purse, and laughing extra hard at parts of the movie that weren't even meant to be funny..and at one point, when her date got up and excused himself, she sprawled out across both seats, like she was lounging at home. Good times.
What a great night, but I never expected any less with him. Again, we woke up around noon, and he took me home around three in the afternoon. On the way, he said to me, "you know, that was the best Valentine's Day I've ever had with anyone."
"Me too, Dorian, me too." I said, reaching over and giving his hand a squeeze.
And then we lived happily ever after. Except, that's not the way the story ends at all. Come on guys n dolls, you know that only in a perfect world (which, mine is not), would the story have ended that way. It was nice for a while though.
From Valentine's Day forth, we were pretty much inseparable. I all but lived with him. I had my own bathroom there, and he'd even bought me a toothbrush. I really only left when I needed to get more clothes, or of course, go to work. If you really want to know how serious it was, know this: I even kept my guitar at his house. If you're reading this, and you know me personally, you know I'd never leave my guitar at anyone's house. So, yeah, it was pretty serious.
The day I knew I was his girlfriend, was about three weeks into it when I overheard him on the phone with his brother.
"…whoa, whoa man, quit being so racist, my girlfriend is black" …don't worry, his brother isn't racist and didn't even say anything remotely close to being racist. That was just Dorian playing comedian. I was once forcing him to watch Desperate Housewives and he tweeted to one of his friends:
I'm being held hostage on my couch by someone who called me an Asian racial slur this afternoon.
Of course I hadn't. And that's how I knew his brother hadn't said anything racist either. The more important part of the sentence anyway, was that he'd referred to me as his girlfriend. 
Later, I asked, "hey, do you know you called me your girlfriend earlier when you were talking to your brother?"
"Uh…yeah, is that okay with you?"
Of course it was. 
I don't know how long it takes to fall in love with someone, but, I know that I loved Dorian. There were lots of tell-tale signs. Like, the fact that he snored, and I didn't care. I know people can't help that they snore, but, having to listen to someone snore, for me, is the equivalent of someone breaking my arm off and then shoving it down my throat. I can't take it. Not to mention that while the other person is sleeping soundly, you're losing sleep listening to them sleep soundly. Dorian didn't just snore, he also had sleep apnea (he claimed it was because he was Asian), so, he would snore and seconds later, stop breathing all together. Scared the crap out of me, but it never ever annoyed me. There was also the fact that I felt like I didn't have to hold anything back with him. We could both totally be ourselves without fear of what the other would think. We would talk about any and everything. I was also affectionate with him. One of the main complaints other people who have dated me, have had, is the fact that I'm not very affectionate. I'm not the girl who will kiss you out of the blue, I won't grab your hand while we're walking, I won't rub your arm while you're driving…it's just not something I do. Mainly, because of boyfriends past. I remember in my college years, I was that girl…until I started to notice that if I grabbed a guy's hand, he always seemed to find some reason to let it go. And so, I let that part of me go. But I did all of those things with Dorian, without hesitation, really, without even thinking about it. He'd told me he was the same exact way, and that he felt with me, it was just natural for him too. I loved spending every single second with him…and I'm really kind of one of those people that enjoys time to themselves, so, that's saying a lot. 
So, what happened? Your guess is as good as mine. Well actually, I probably do have an idea.
My first inkling that anything was wrong was when he started picking up more shifts at work. The bulk of the time that we were able to spend with one another without either of our work schedules interfering, was on the weekends. And each weekend, he would pick up an extra shift…like, every single day of the weekend.
I felt the change.
I'm not a great communicator of feelings, when something is bothering me, I usually keep it to myself. Especially when it comes to dealing with guys, because who wants to be just another nagging girl? But I couldn't take anymore. One rare Sunday afternoon, as we lay on the couch, I turned over to face him.
"We need to talk."
"Uh oh, is this about me peeing on the toilet seat?" He joked.
"Dorian, I'm serious."
"Alright, alright, alright. What's up?"
"Is something wrong? Like, if your feelings have changed or something, you can just tell me. If you don't want to be with me anymore, I don't want you to feel like your stuck or something, you're a blunt guy, you can be that way with me too. I know you've been working a lot more lately, and I don't want you to have to work just to get away from me."
And then he started laughing. "Whoa, whoa, whoa, where is all this coming from? What are you even talking about? I'm working because I have stuff to pay for. Nothing's changed, I still feel the same way about you. Jesus, how long have you been thinking about this nonsense?"
I was relieved by his response, but, I still felt uneasy. April was closing out, and in a few weeks, it'd be my birthday. He had suggested we take a trip somewhere, and we had talked about going to Memphis, until one day, he told me that instead, he'd like to take me to Colorado to meet his brother, sister-in-law, and nieces. So, I figured he must be picking up all these extra shifts in preparation for our trip. So when weeks would go by without me hearing from him or seeing him, I'd just keep telling myself, 'it'll all be worth it when your birthday rolls around in a couple weeks.'
The week before my birthday, after not having seen him for several weeks, we met up for dinner. When I saw him I gave him a big hug, and he kind of half hugged me back. Still felt wrong. 
"Hey….stranger." I said. 
"Yeah…I know, and after tonight, you won't see me for at least a week because I'm going to Colorado."
My heart sank. He was going where? Colorado…without me? Was this some kind of joke? 
It wasn't. He flew out to Colorado the next day.
So, he obviously wasn't picking up extra shifts for our trip—what for then? I knew he didn't need the money. I wasn't his banker, and I hadn't seen any bank statements, but, I was 95% sure he didn't need the money. So what were all the extra shifts about? There was still a week left before my birthday, maybe he was planning something really special…more special than Colorado. I'd give it until then before I gave up. He'd also planned to sign up for some sort of out-of-state nursing program over the summer and had asked me to move with him, so maybe he was going to Colorado to scope things out for us.  
I am, clearly, a habitual benefit-of-the-doubt-giver, usually to a fault. 
MY BIRTHDAY—THURSDAY, May 13, 2010
I woke up that morning headed to work, determined to have a good day. I'd woken up to several 'Happy Birthday!' texts. None from Dorian. I was pulling into the parking lot at work when I received his text:
Happy Birthday, I hope you took the day off. Have a good day.
I knew he'd just gotten off work at 7am. Maybe he was going to go home and rest from his twelve hour shift, so that by the time I got off work at 5, he'd be rested and we'd do something special.
No such luck. I never even heard from him again that day. In an effort to force myself out of the mood I was in, I'd decided to shower and head downtown, hoping to maybe run into friends who might brighten my day. Except, when I got in the shower, I broke down, as my mom would say, like a double barrel shot gun. Everything I'd been feeling, the doubt, the worry, the hurt, the concern, the anger, the feeling of being thrown away…it all hit me at once and I lost it. 
I got out of the shower, put my pajamas on, and cried myself to sleep.
Happy Birthday to me.
The next night, while out with a friend, I still hadn't heard from him and decided that this had gone on for long enough. I shot him a text:
Me: Do you have to work tomorrow?
As if to head me off, like he was afraid I might ask to do something with him, he replied: 
Him: Don't know yet.
Me: I was just going to see if you were going to be home, I'll come get my stuff from your house, and then I'll be out of your hair.
Him: I'll drop it off at your mom's.
Ouch. I hadn't expected that at all. I'd expected the same response he'd given me the day that we'd been at his house laying on the couch and I'd brought up my concern. The truth really did hurt.
The next day, he did in fact bring my shoes, the few articles of clothing I'd left, and my guitar to my mother's. We sat in the living room in a kind of awkward silence for a minute or two.
He spoke first.
"I know I haven't been fair to you. I just have so much crap going on between work and school, that I just don't have a lot of spare time. And I'm sorry. And I know it's not fair to ask you to wait, but, if you can wait until August, I promise everything will be more normal, if I get into grad school, I'll have some time in between and a lot more time for you. But, I understand if you don't want to wait for me."
"So, you're saying that you don't want to break up?" I asked.
"No. I don't want to break up."
Maybe I'd been wrong all along. Maybe my heart had misled me, and when he'd said he was just busy with work and school, he really was just busy with work and school.
"Alright. I don't want to break up either, but, we're going to have to do better. I don't have to talk to you every day, or even every other day, but at some point during the week, it'd be nice to hear from you…it'd be nice to know that you've thought about me at all. It's bad enough that I never see you, but to add absolutely NO communication at all, is asking a lot."
"You're right, I'll do better, I promise. How do you feel about having a roommate in September? I have family coming in from Korea and I told them they could stay in my house and I'd go somewhere else."
"…you mean, live with me? You want to live with me? What about being further from your job? And what about your dogs? I can't have at my place." I said, dumbfounded.
"You don't live far from the hospital. And I told my parents I'd pay them to keep my dogs at their house, I'd just have to get a fence built."
He was serious. So not only did he not want to break up, but he wanted to move in with me in four months. I can't remember a time I'd been so far off the mark.
He stayed and we talked for an hour.
"So, are we still going on vacation in August?" I asked, referring to the vacation we'd planned and pre-paid for in Isle of Palms, South Carolina.
"Of course, I can't wait….let's hug it out?" He said, grabbing me, and giving me the kind of hug I'd been waiting over a month to get from him.
Before driving off, he promised to keep in touch throughout the week.
He did not.
A week after my birthday he text me about wanting to make up the fact that he'd screwed up my birthday, and so, he took me out to dinner. It was…kind of like a first date, but not like our first date…it was like one of those awkward first dates where neither of the people on it, know what to say. 
After dinner we went to my place, for a change. I'll never forget it, it was one of the saddest moments of my life, and probably the reason that I love John Mayer's 'Slow Dancing in a Burning Room' song so much, because I UNDERSTAND the lyrics.
It's not a silly little moment,
It's not the storm before the calm.
This is the deep and dying breath of
This love that we've been working on.

Can't seem to hold you like I want to
So I can feel you in my arms.
Nobody's gonna come and save you,
We pulled too many false alarms.

We're going down,
And you can see it too.
We're going down,
And you know that we're doomed.
My dear,
We're slow dancing in a burning room.
Amos Lee's 'Arms of a Woman' was playing as we sat on the couch, in the darkness. 
"Let's dance." He'd said, standing and pulling me up off the couch with him.
We walked over to the open space of the kitchen, he held me close, and we danced.
"I am at ease in the arms of a woman.
Although now,
most of my days i spend alone. 
A thousand miles,
from the place i was born.
When she wakes me,
she takes me..
Ya, when she wakes me,
she takes me back home. 
When she wakes me,
she takes me back home."

It was, what should have been as beautiful as the moment that Will Ryan and I had shared as we slow danced, barefoot, in his living room to Sinatra—but it wasn't. It wasn't, because I knew, with absolute certainty that it was the last dance we'd ever share together. 
And when it was over, he gave me a meager kiss, and an "I'll probably see you later this week or something", and then, he was gone.
A week passes, without a peep from him. I'd resolved to 'delete' him from my mind and make myself feel a little better by telling myself that the reason he'd distanced himself from me was because he'd probably hooked up with some girl on the side, caught some horrid disease, and was too ashamed to tell me. That explanation worked for a good hour and a half more, before my curiosity got the best of me. I decided to do something I never do, I picked up my phone, and called him. He didn't answer, so I sent him an email instead.
Hey Dorian,
I've been thinking a lot lately, about this whole distance thing between you and I. And I know what you tell me is, you're busy. And, I want nothing more than to support you in your endeavors. But truthfully, I feel there is more to it, than what you tell me. You and I have talked on more than one occasion and I feel that both times, I have given you ample opportunity to back out of "us" if that is what you feel is best, but neither time have you taken that occasion to say "yeah Robyn, I don't wanna see you anymore, what was there, just isn't there anymore"…and I feel that I've asked you about this pretty directly. Now, if it is just a matter of you being 'super busy' …then, tell me one last time. But, if there is more than that…then be the direct guy that I've known you to be. I have not seen you in two solid weeks, no problem. I have not heard from you in seven solid days. I am not a demanding person at all, nor am I clingy…but for even the most independent of people, seven days of not hearing from someone that you care a lot about, and hope cares about you equally, is a bit much. I had a gift sent to you, because I thought it'd be nice to let you know you're thought of, and not only did I never receive a thank you, I never even received acknowledgement that you'd received it. I'm not sure what has happened…did I say, or do something? Or NOT say or do something? Was I something in the beginning, that after time, I was not? Was I a novelty? I am just so far beyond confused, that I cannot even draft the words to describe…from my eyes, it goes something like this:
We meet…shortly thereafter, are spending 5 days a week together…everything seems perfect…4 months down the line, things start to blur a bit….we talk, seems that we're both on the same page, schedule and obligations just don't permit us to spend the time that we used to…you're dedicated to your school & future ('the big picture') and I get that…more distance…we talk again, you assure me everything is fine, you're just crazy busy…I, again, get that…we spend a great, long overdue evening together…and then, boom, you completely drop off the map. The only thing I can figure is,
A. You've lost interest in me…
Or
B. You've found interest in someone else…
I could be totally off base, and if I am, well…I hope I am…but either way, I feel I deserve more than a cold shoulder after nearly five months…so, which is it?
Not even five minutes later, I received a text…and the rest, I guess, is history:
HIM: I'll say C - bad timing. I just can't think about a relationship with everything going on and its only going to get worse and then I'll be moving. I apologize for giving you the cold shoulder. I've just been avoiding it like a coward. You deserve better
ME: Dorian…maybe I will just never get it…but why didn't this come up months ago? When you were asking me to move to Colorado with you…or even weeks ago when you asked about moving in with me? I specifically asked you…I just don't get how I am so easy to walk away from by everyone. Maybe I will never get it.
HIM: Its not that. I'm just selfish and need to do my stuff.
ME: This is like a really bad dream. If you had told me in the beginning that you weren't looking for anything, this would be a lot easier to deal with, because I'd have known what to expect…but instead, 5 months down the line, after I'm invested in you and actually care, you drop this on me…completely out of the blue, no argument, no disagreement….just "hey, by the way, even though I didn't bother to tell you formally, I'm done with you…you don't really count." I'm completely befuddled. Was it all recreation? I'm really not trying to harp on it, but put yourself in my position, Dorian…is this how it normally goes?
HIM: I think we just lost something or I did. I'm sorry. I wasn't trying to use you.
ME: At what point did you realize it? I'm just trying to sort things out in my mind. My heart is broken, especially because I've had to learn this thru text instead of face to face, like adults…but for me, I've just really got to try and figure out what it is about me, specifically, that causes a sudden disinterest.
HIM:Nothing about you. I didn't want to do it this way
The next morning, I rolled over and checked my phone, hoping it was all a nightmare…but it was all still there, plain as day.
And that's pretty much how it ended. We went from wasabi-hot, to sashimi-cold in five months. 
I saw him only once more, a couple of weeks after our text break up. He'd stopped by my job one morning after he'd gotten off work because there were a couple of things he'd forgotten to give me back on the day he dropped my things off at my mom's. I'd rehearsed an entire speech, for hours, the night before. It was one of those speeches that the losing party gives the other person in one last ditch effort to salvage the relationship. In the movies, the other person always realizes what a great thing they had, and they grab the love of their life, mid-speech, and give them the most passionate kiss ever, and then they walk off into the sunset as the credits roll.
Reality ain't shit though. Movie scripts are so much more heart-warming. 
I held up my heart to him, and he ripped my little paper heart to shreds. I can't blame him entirely, he just didn't feel the same way, and that happens. As the song goes, "I can't make you love me, if you don't. You can't make your heart feel something it won't."
A month or two later, I found out that he was dating the wife of a friend of his. I imagine she was no longer married to his friend. It was a bit of a slap in the face, that day when I'd unblocked him on Facebook (I'd initially blocked him because otherwise, I would have been tempted to see what he was up to all the time, and by 'see what he was up to', I mean, see if he was dating anyone or not), only to see his profile pic set to one of him with the new girl. She looked familiar. And then I remembered why. One night he'd asked me if it was okay if he invited her out with us because, "her husband is a buddy of mine, he's DJing tonight and she doesn't have anyone to hang out with"…I'd willingly agreed to let her hang out us. We were all smiles that night.
My friend had commented to me that she thought that the girl and Dorian were a little too chummy, but I'd shrugged it off.
I've learned to do a little less shrugging, like they say, where there's smoke, there's fire.
I'd like to think that he wasn't dating her while he was dating me, but, I wasn't born yesterday. She works at the hospital with him, so, all the extra shifts make a lot more sense. As far as I know they're still together. And with all sincerity, as long as he's happy, then I'm happy for him. You can't help who you fall in and out of love with. If they were meant to be, then, by all means, let love win.
My saying/knowing that, never made it hurt any less though. I've never hated him, but I sure hated the way he'd made me feel.
Or, at least I did then. I realize now, that I wouldn't take it back, even if I could.
As I sat here typing this blog, I smiled, thinking about the sweet moments we'd shared, like the time we'd stayed in bed ALL DAY LONG cuddling—leaving the confines of his bed, only to answer the door for the pizza delivery guy.
I laughed, thinking about how ridiculous he was, like the time I was sitting on the toilet peeing, and talking to myself (something about needing to go to the salon soon), when suddenly, the shower curtain ripped open, and he jumped out and yelled "BOO!" …scaring the crap out of me (almost literally). And we both died laughing.
And, my eyes watered a little, thinking about the way that it ended, but that's the thing with life, you have to take the good with the bad. Every experience either builds or breaks your character—and I like to think that I'm always under construction.
Oh, and Dorian, if you're reading this, you forgot to give me my panda mask back.